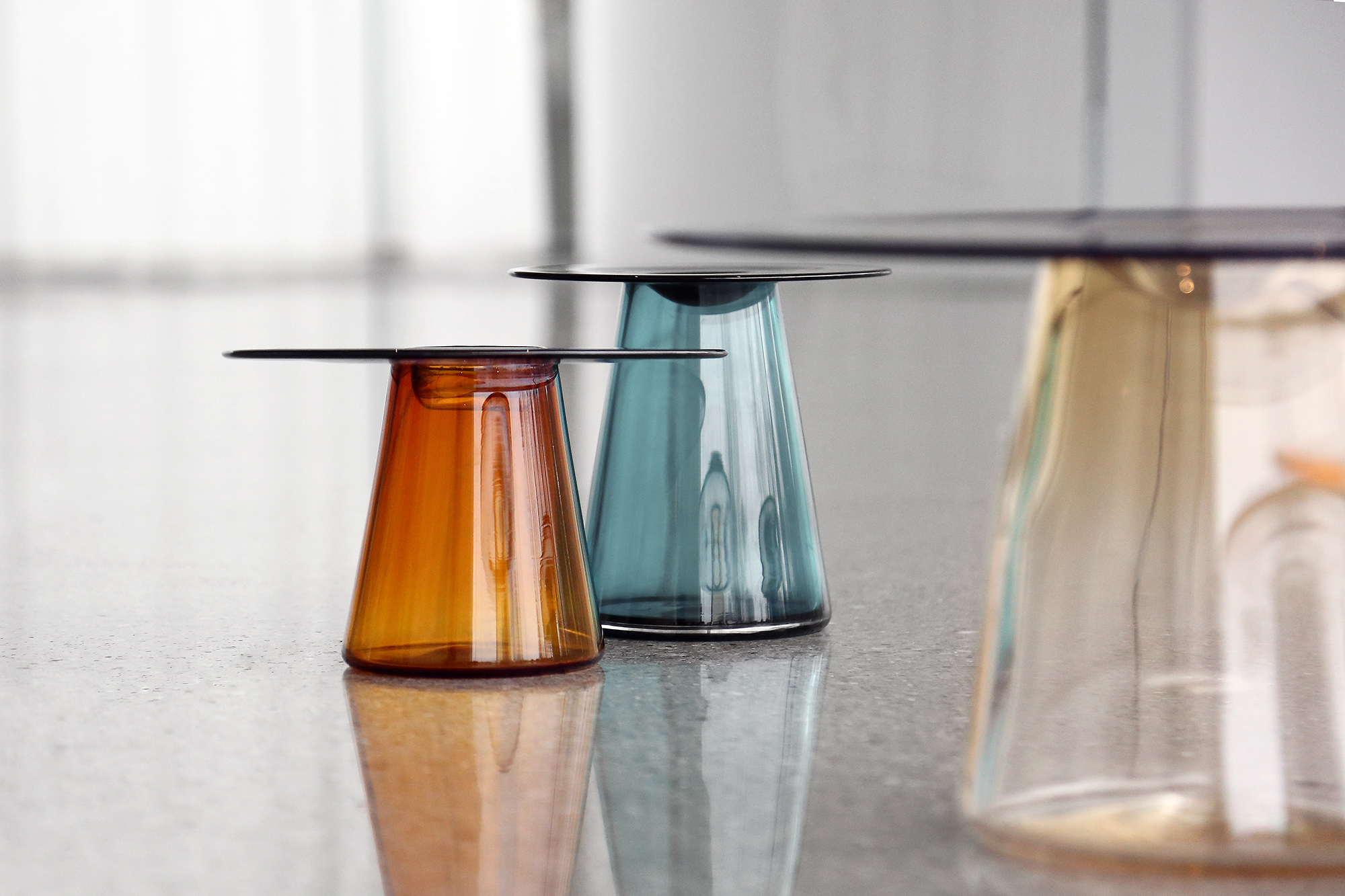 Nina Cho presents Layering Transparency, a new collection of hand made glass works in various scales, from an accent table to tabletop object.

The distinguishing feature of this collection is the recessed curve at the center of each top plate's surface; the concave surface can be used as a vessel. Joining two complementary forms creates stable structure. Each piece becomes a singular volume using one material: glass. The unique transparency of glass reveals overlapping parts, beautifully displaying its layering of two different tints of glass.

Each work is one of a kind, created in partnership with the 2018 Guest Artist Pavillion Project at the Toledo Museum of Art.

Nina Cho describes her design philosophy as follows:

"The aesthetic of emptiness is a Korean traditional aesthetic. In painting, the unpainted portion of the surface is as important as the portion that was painted; it's about respecting the emptiness as much as the object. Through practicing the beauty of the void, I can respect not only the object itself but also the negative space that object created. The negative space does not signify a deficiency to me. An empty space poetically invites the air, users, surroundings, and the spirit of a space to complete the piece itself. I believe that my own personal background has naturally led me to a minimal and simplified aesthetic. My works have focused on reductive forms that blur the line between an art object and a functional product. I pursue ideas of lightness and reduction in my work. Colors, shape, and material serve as the essence to complete the work."


Nina Cho is an artist and designer, currently based in Detroit. Nina was born in the United States and raised in South Korea, where she received her BFA in woodworking and furniture design at Hong-Ik University in Seoul. She then earned an MFA in 3D Design from Cranbrook Academy of Art. She has been recognized as an Honoree of Sight Unseen's 2015 American Design Hot List and featured as one of Five Breakout Designers of 2015 by Artsy. She has been invited to show nationally and internationally in cities such as London, Milan, Cologne, Frankfurt, Toronto, Seoul, Miami, Detroit, Chicago, Washington, D.C., and New York City.

The pieces in Layering Transparency were created in partnership with the 2018 Guest Artist Pavillion Project at the Toledo Museum of Art.